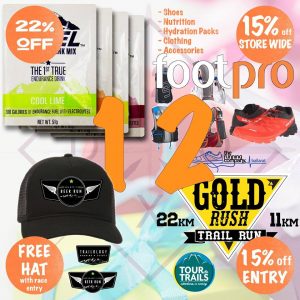 12 Days of Xmas, DAY 12. WE MADE IT!
THE LAST DAY!!! Don't worry, we won't be spamming your feed with INCREDIBLE deals tomorrow! VFuel have sealed the deal with an HUGE 22% off their Endurance Drink Variety Packs. You've only got a few days to sign up for the inaugural Gold Rush Run, so why not save 15%? Sharpy's Beer Run are throwing in a Black Trucker with every rego and Footpro have carried the day a massive 15% off EVERYTHING, storewide.
Share this daily #12DoXSale sale along with this Hashtag, and go in the draw for a massive end-of-sale prize pool. Every share counts, so don't be shy!
Check these Deals!
_____________________
///1. VFuel Australia are offering a HUGE 22% off their Endurance Drink Mix for one day only. No Coupon needed, just head over to vfuelaustralia.com and discount is already applied.
_____________________
///2. @TourdeTrails are offering 15% off registrations in their Gold Rush Run. This event, brought to you by The Running Company Ballarat, is on THIS weekend and we can't think of a better way to close out the year. Head to goldrushrun.net and use the code: 12DAYSGOLDRUSH16
_____________________
///3. Footpro have continued their awesome deal, offering 15% off EVERYTHING storewide. Gear, Shoes, Packs, Clothes, Accessories, you name it, you save. Head over to footpro.com.au and use the code: FOOTPRO15OFF
_____________________
///4. Sharpy's Beer Run are offering a free Black Trucker Hat with every registration. Head to trailology.com.au and register. No code required.