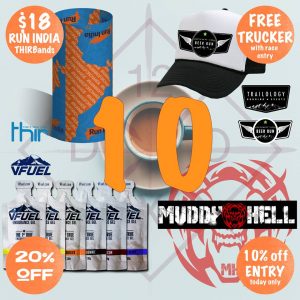 12 Days of Xmas, DAY 10. HOME STRETCH people! Happy Saturday
Today is first of 3 INSANE days for VFuel – we've hit 20% off and what better way to start than with our Mixed Endurance Gels? Muddy Hell are back with 10% off entries for Hot as Hell in January, Sharpy's Beer Run are offering a free white trucker with regos and THIR have slashed prices on their Run India and Trail THIRs.
Every day for 12 days we'll bring you four awesome deals, from VFuel Australia and our partners; local trail running events, retailers, health professionals and maybe even a few surprise guests. Remember, these deals are for ONE DAY ONLY so don't miss the boat.
PLUS: Share the daily #12DoXSale sale along with this Hashtag, and go in the draw for a massive end-of-sale prize pool. Every share counts, so don't be shy!
Happy Saturday people, check these Deals!
_____________________
/// 1. VFuel Australia have hit 20% off MIXED Endurance Energy Gels. Yep, one of every gel flavour! This is the biggest discount we've EVER offered. Stock up, gift them, have them on your pancakes just DON'T miss this. It will never be repeated. No Coupon needed, just head over to vfuelaustralia.com and discount is already applied.
_____________________
///2. THIR Australia have continued to slash prices, offering discounts on their Run India and TRAIL THIRS. These make Perfect stocking fillers and proceeds from the Run India THIRs go towards World Vision projects in India. No code necessary, discount already applied.
_____________________
///3. Muddy Hell are offering 10% off entries for their January "Hot as Hell" event. We've missed their last two events so we can't wait to give this a crack! 7km and over 55 Obstacles await you. Save 10% on entries with the code: CHRISTMAS
_____________________
/// 4. Sharpy's Beer Run are their awesome White Trucker Hats with entries today. Think you can get away with waiting until the last minute to register? Don't risk it! With a liquor license to have beer at the aid stations and a rapidly filling roster, this event will definitely sell out! Head to trailology.com.au and register with the code: SBR12DoX10