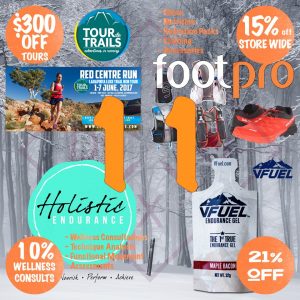 12 Days of Xmas, DAY 11. One more sleep! Happy Sunday
Footpro have stepped things up to a whole new level, offering a massive 15% off EVERYTHING, storewide. Tour de Trails is offering $300 off their luxe trail tours, our coaching partner Holistic Endurance has knocked 10% off their consults and VFuel have taken a massive 21% off Maple Bacon. Better be quick, we're discontinuing this flavour and these are the last cartons EVER!
Every day for 12 days we'll bring you four awesome deals, from VFuel Australia and our partners; local trail running events, retailers, health professionals and maybe even a few surprise guests. Remember, these deals are for ONE DAY ONLY so don't miss the boat.
PLUS: Share the daily #12DoXSale sale along with this Hashtag, and go in the draw for a massive end-of-sale prize pool. Every share counts, so don't be shy!
Check these Deals!
_____________________
/// 1. Holistic Endurance are offering 10% off their wellness consultations, including technique analysis (run, bike, swim) and functional movement assessments (Vic. only). Head across to https://www.holisticendurance.com.au/programs/ and use the code: VFUEL12DAYS
_____________________
///2. Footpro are back with another awesome deal, offering 15% off EVERYTHING storewide. Gear, Shoes, Packs, Cloths, Accessories, you name it, you save. Head over to footpro.com.au and use the code: FOOTPRO15OFF
_____________________
///3. @TourdeTrails is offering a massive $300.00 off their trailrunning tours; UK Coast2Coast, Pub2Pub, Bhutan, Larapinta. To qualify you must initiate registration interest in a tour TODAY and make mention of this offer. www.tourdetrails.com/
_____________________
///4. VFuel Australia have slashed 21% off Maple Bacon Gels. This flavour has been discontinued so these are the last cartons left on earth! No Coupon needed, just head over to vfuelaustralia.com and discount is already applied.