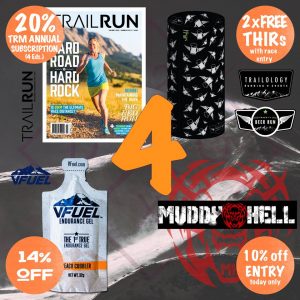 12 Days of Xmas, DAY 4. Today we welcome to the table ANOTHER two new partners: Trail Run Mag AU/NZ (@trailrunmag) and Muddy Hell (@muddy_hell). Sharpy's Beer Run is offering TWO FREE SBR THIRs with every entry and VFuel's discount continues to climb, with 14% off #PEACHCOBBLERFORPRIMEMINISTER.
Every day for 12 days we'll bring you four awesome deals, from VFuel Australia and our partners; local trail running events, retailers, health professionals and maybe even a few surprise guests. Remember, these deals are for ONE DAY ONLY so don't miss the boat.
PLUS: Share the daily #12DoXSale sale along with this Hashtag, and go in the draw for a massive end-of-sale prize pool. Every share counts, so don't be shy!
_____________________
///1. trailrunmag.com // Trail Run Mag AU/NZ (trailrunmag) just took the best Trail Running eMag in the world and turned it into the best quarterly, coffee-table-quality, Trail Running Hard Copy Mag in the world. Get 20% off an annual subscription with the code: 12DOXTRMSUB
_____________________
/// 2. trailology.com.au // Sharpy's Beer Run continue their #CampaignOfAwesome, offering TWO FREE SBR THIRs with every entry. What's Sharpy's Beer Run, you may ask? 5 words: Beer AT THE AID STATION! Head to trailology.com.au to register, no code needed.
_____________________
/// 3. vfuelaustralia.com // @VFuelAustralia are offering 14% off the incredible Peach Cobbler, a personal favourite of VFuel Director, @wildplans. No code needed, discounts already applied.
_____________________
///4. muddyhell.com.au // @Muddy_Hell 's "HOT AS HELL" Obstacle Course Race returns in January. Start the new year with a bang at Muddy Hell- Hot As Hell
7km and over 55 Obstacles await you. Plenty of mud – water – a new course layout – and some new obstacles by the same Muddy Hell team. Are you ready to go to hell? Save 10% on entries with the code: CHRISTMAS
____________________
That's all for today, but remember to share the love and tune in each day to see what other awesome deals we've managed to find for you!