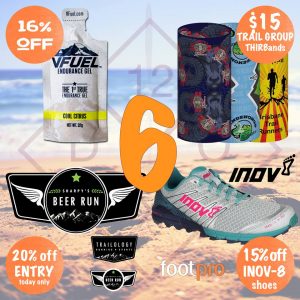 12 Days of Xmas, DAY 6.
Today we welcome THIR Australia back into the fold with a super good deal on Trail Group THIRbands. FootPro are offering 15% off Inov-8 Trailrunning Shoes and Sharpy's Beer Run are offering a massive 20% off entries. VFuel bring yet another perennial favourite to the table with 16% off Cool Citrus Endurance Energy Gels.
Every day for 12 days we'll bring you four awesome deals, from VFuel Australia and our partners; local trail running events, retailers, health professionals and maybe even a few surprise guests. Remember, these deals are for ONE DAY ONLY so don't miss the boat.
PLUS: Share the daily #12DoXSale sale along with this Hashtag, and go in the draw for a massive end-of-sale prize pool. Every share counts, so don't be shy!
Happy Monday people, check these Deals.
_____________________
///1. @THIRAUSTRALIA are offering a massive 25% off Trail Group THIRbands, meaning you can get your LTR, BTR and DTR THIRs for only $15.00. NO code needed, discounts already applied. Shop at THIRAUSTRALIA.COM
_____________________
///2. @FootProAus have are offering 15% off all INOV-8 Trail Running Shoes. These are a personal recommendation of ours and we can say, without a word of a lie, the brand new Trail Talons 250s and X-Talon 220s are our favourite shoes right now. Head over to footpro.com.au and use the code: INOV815OFF
_____________________
/// 3. Sharpy's Beer Run are AN INCREDIBLE 20% OFF REGISTRATIONS. Head to trailology.com.au and use the code: "SBR12DOX6"
_____________________
/// 4. VFuel Australia are offering 16% off another classic gel flavour – COOL CITRUS. Refreshing on the long run, the blend of lemon and lime oils won't stick your mouth up like a Super Glue Smoothie on race day. No Coupon needed, just head over to vfuelaustralia.com and discount is already applied.
_____________________
That's all for today, but remember to share the love and tune in each day to see what other awesome deals we've managed to find for you!