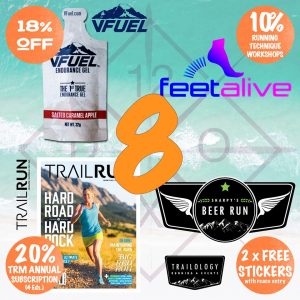 12 Days of Xmas, DAY 8.
Woah, this is like an Ultramarathon of Sales! Today we welcome a new partner, FeetAlive running technique workshops, presented by Caleb McInnes of Freedom Sports Medicine. Trail Run Mag have caved to public pressure and are offering 20% off subscriptions for one more day and Sharpy's Beer Run are throwing in a few Bumper Stickers with every rego. VFuel are offering 18% off the BRAND NEW, Uber-awesome Salted Caramel Apple.
Every day for 12 days we'll bring you four awesome deals, from VFuel Australia and our partners; local trail running events, retailers, health professionals and maybe even a few surprise guests. Remember, these deals are for ONE DAY ONLY so don't miss the boat.
PLUS: Share the daily #12DoXSale sale along with this Hashtag, and go in the draw for a massive end-of-sale prize pool. Every share counts, so don't be shy!
Happy Tuesday people, check these Deals.
_____________________
/// 1. VFuel Australia are offering 17% off another their newest Gel Flavour, Salted Caramel Apple. Like all our gels, this is FRUCTOSE FREE and will likely become the MOST POPULAR flavour in our range. No Coupon needed, just head over to vfuelaustralia.com and discount is already applied.
_____________________
/// 2. Caleb McInnes, VFuel Athlete and Head Podiatrist at Freedom Sports Medicine, is offering 10% off his FeetAlive Program. This 3 hour Practical Workshop, teaches you drills and strategies to manage load through good technique to PREVENT INJURY, MANAGE current Injury and ENHANCE performance. Head to http://freedomsm.com.au/services/coaching/ , select the FeetAlive option from the dropdown and mention this promo.
_____________________
///3. Trail Run Mag AU/NZ (@trailrunmag) (in our humble opinion the best Trailrunning Mag on earth) have caved to all the PMs that were sent through and are taking 20% off an annual subscriptions for one more day with the code: 12DOXTRMSUB. head to trailrunmag.com
_____________________
/// 4. Sharpy's Beer Run are offering a 2x Free SBR Bumper Stickers with every registration. Head to trailology.com.au and register. No code required.